COMMERCIAL

CARPET CLEANING
Carpets in commercial settings get a lot of use (or abuse, depending on how you look at it).
From customers browsing your products and staff going about their day-to-day work, to one-off
external contractors and even pets, a number of people and four-legged friends walk on the
carpet in your office or store every day. This constant use brings dirt, moisture, and a variety of
pathogens into your space. Periodic cleaning of the carpets ensures both the health of your
customers and team, as well as the overall appeal of the space.
The TLC your carpets deserve
At CMOS, we have seen how regular care and attention have helped clients keep their carpets
in good condition for years on end, and avoid expensive interventions like carpet replacement.
How often you should get them cleaned depends on the use your carpets get. This is something
our team can help you with.
We offer an efficient, high quality cleaning service, and use non-toxic cleaning supplies so your
office air remains as clean as your carpets. CMOS customers also get dedicated account
managers who can be contacted any time of the day.
We are a professional cleaning company working solely on commercial projects in Auckland
and Wellington. Besides office carpet cleaning, Clean My Office Space also provides other
services like cleaning of office common areas, rubbish removal and floor cleaning. We are
passionate about helping you have a clean, healthy and productive workplace at all times.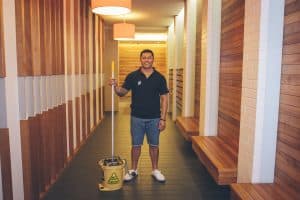 Floor Cleaning
There are a lot of good reasons to take care of your office flooring, the biggest being the immense cost of flooring replacements! In this