COMMERCIAL FLOOR
CLEANING
At CMOS, our professional cleaning teams can undertake regular Commercial floor cleaning services, for tenanted buildings, or commercial space as per your needs – or you can book us for a one-off floor polish or a long-term maintenance plan.
Whether you have hard floors or carpeting, our comprehensive commercial floor cleaning services are designed to leave them clean, hygienic and looking their best. Our solutions include vacuuming, steam cleaning, mopping, polishing and more.
At CMOS, we understand the importance of consistently maintaining well-presented floors in your entranceway, common areas, office or commercial space, and we can work with you to develop an annual schedule that includes regular deep cleans to ensure your floors remain in optimal condition throughout the year.
Our cleaning teams utilise state-of-the-art machinery specifically tailored for hard floor or carpet maintenance, always providing exceptional results.
Targeted Floor Cleaning
While regular cleaning is crucial to keep your property looking its best, we understand that you can't plan for every situation. If you have an unexpected mess, perhaps someone tracking mud in, a spill, or any other mishap, our reliable, responsive team will work with you to swiftly resolve the issue.
If you are a regular customer, your Account Manager will respond promptly to any extra floor cleaning needs; you can contact them via email, text or phone – you can expect a same-day response.
If you are new to CMOS, we look forward to providing you with exceptional service. We value open communication with our clients and consider keeping your office space looking awesome our top priority.
Safety & Security
Because all our staff across Auckland and Wellington have been police and reference checked, you can be sure that along with excellent commercial floor cleaning services, you are dealing with a team that has been appropriately trained across safety procedures – and that all your security requirements will be adhered to.
Our team work in uniform, and they always carry ID so you can keep track of who is moving around in your building or workspace. We have a rigorous sign-up process, and you can be confident that anyone we send to your site has passed all our checks for authorisation.
Our comprehensive services include:
We proudly serve clients across the Wellington and Auckland regions, including in the CBD.
If you want to present consistently pristine floors in your office, tenanted property or commercial space, contact us for a free, no-obligation quote. Our team will assess your needs and provide a tailored solution to meet your requirements.
With CMOS, you get a high-performance, supervised team of experts – and highly responsive 24/7 Account Management services.
We are also dedicated to sustainable practices, including using non-toxic floor cleaners and a commitment to reforestation through our involvement with the Million Metres Streams Project. Our team are encouraged to carpool, and we can supply your business with separate recycling pods for compost material, general waste, glass, and cardboard.

If you are ready to experience exceptional service and a same-day response guarantee, get in touch now.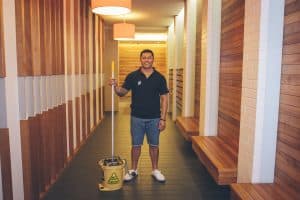 Floor Cleaning
There are a lot of good reasons to take care of your office flooring, the biggest being the immense cost of flooring replacements! In this